The Bare-Bones of Cash Purchases
Friday, October 18, 2013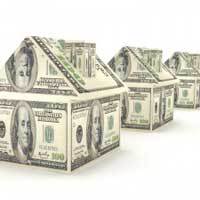 All-cash purchases of real estate have been on the rise across the country over the last decade and accounted for 33% of home sales in just the last year. A cash buyer is one who plans to buy a property without obtaining a mortgage. Cash transactions typically follow the same trajectory as financed deals, including seeking the help of a realtor and using a closing attorney. The time frame does tend to be shorter.
What else is different?
In purchases involving mortgages, usually the lender selects a closing attorney. Since there is no lender involved in a cash deal, the buyer will have to select his or her own closing attorney.
Additionally, while mortgage-backed transactions typically require obtaining lender title insurance, in a cash transaction, the buyer should always opt to purchase an owner's title insurance policy to protect against any title issues that would otherwise have been discovered by the lender's attorney.
Many sellers will require proof of ability to pay the full price of the home in cash. Consequently, an all-cash buyer should have the entire purchase amount ready in a single no-risk account for a consecutive period in order to be able to demonstrate their viability as a cash purchaser.
Our office can serve as the settlement agent ("the closing attorney") in the transaction. In addition to negotiating the P&S, our settlement services include:
Ordering and reviewing the title exam;
Ordering the Municipal Lien Certificate;
Ordering the Seller's Payoff Statement(s);
Reviewing the 6(d) Certificate, Smoke Certificate and Unit Deed;
Preparing the HUD Settlement Statement for Review;
Scheduling and Preparing Documents for Closing;
Conducting the Closing;
Procuring an Owner's Policy of Title Insurance and Declaration of Homestead;
Recording the Deed and other title documents (we e-record in most counties); and,
Conducting final title run-down then (in most counties) e-recording the Deed, MLC and Homestead.
Post closing issues: mortgage discharge tracking, payment of outstanding real estate taxes
We Can Also Provide Additional Peace of Mind For Cash Transactions:
Cash Deals are Now Fully Insured!
We have purchased an Escrow Security Bond through Lloyd's of London that fully insures your buyer's cash transaction.
The Escrow Security Bond protects cash buyers' from financial loss and provides coverage over and above the standard errors and omissions policy including:
Insures Settlement Funds
All buyer proceeds in cash transaction are now fully insured.
Computer crime rider
This enhanced coverage protects against theft of settlement funds through unauthorized access to a computer network.
Cyber liability- Consumer data security
An optional enhancement, this provides coverage for identity theft.